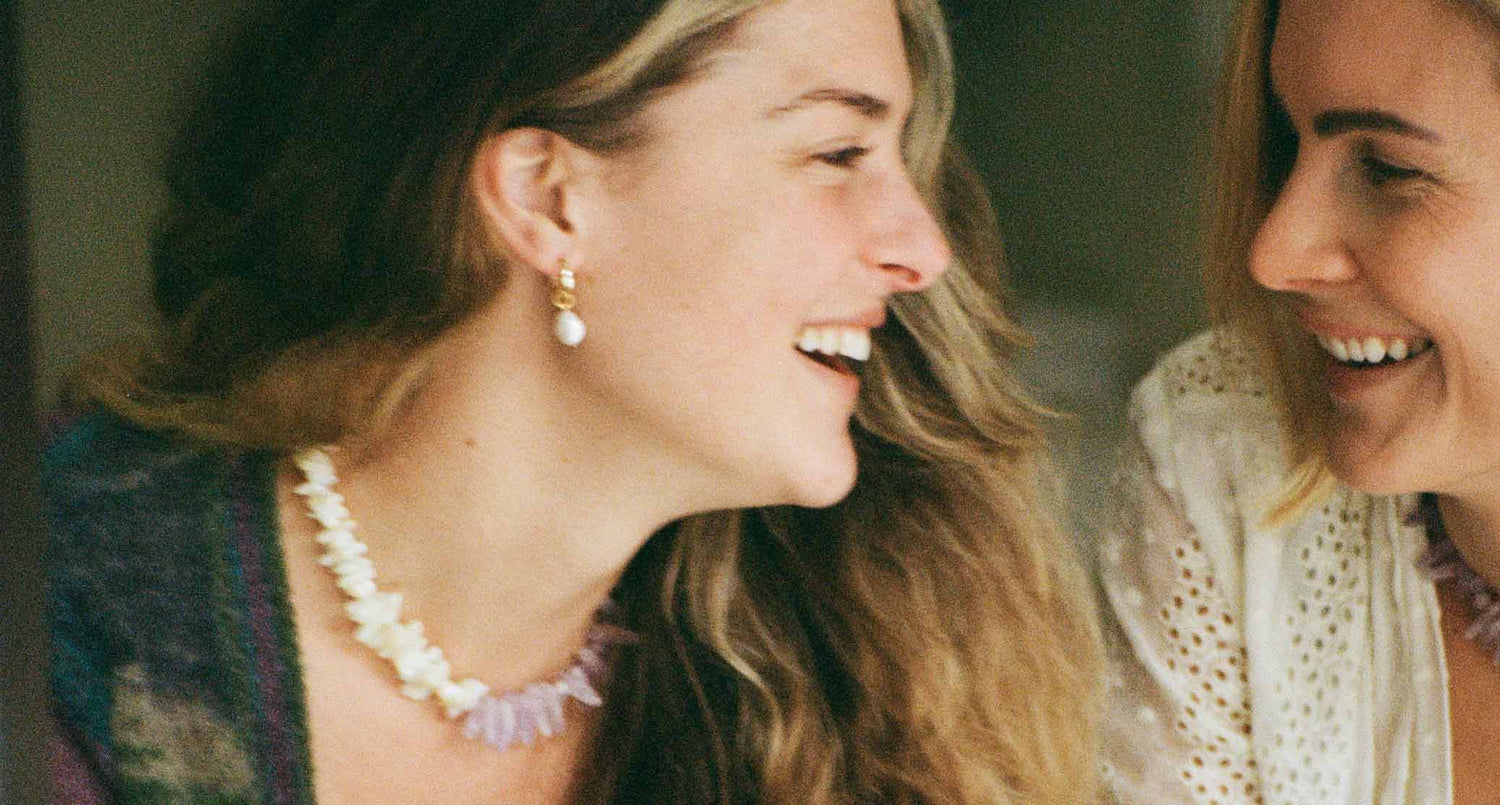 FAQ
Find our most frequently asked questions here. If you have further questions don´t hesitate to write us an email or use our whatsapp chat..
Collapsible content
What is the jewelry made of?

All our precious creations are made of real gems, shells, or pearls and are combined with materials out of 925 silver or 925 silver gold plated.
Where are your crystals from?

Our crystals are from all over the world. We refer our gemstones from our current supplier who's been working for over forty years in the business and is a member of Fair Trade Minerals & Gems e.V. The association was founded by Michael Gienger and is dedicated to supporting small-scale mining and the education and training of people in mining in less developed countries. They trace the products as far back as possible and have good contacts with the suppliers in many countries. He is often on site and obtains comprehensive information.
Is it possible to adjust the chain length?

Yes - as long we have enough in stock… Please contact us. We are looking forward to your request.
What are the packages made of?

Our jewelry cases are FSC® certified paper.  Our padded shipping bags are 100% recycled paper.
How do you ship?

Your orders are shipped with DHL. All shipments are insured against theft and accidental damage. As soon as you receive and have signed for your package the insurance is terminated. We, unfortunately, cannot deliver to post office boxes. Customs and taxes are not included in international shipping.
When will an item be back in stock?

We will actualize the stock as soon as it is back. If you do like to be informed first, follow us on Instagram or contact us directly. 

Please note that we can not promise it will be back in stock. Because it is a natural product - sometimes we will not find the same quality again. Let's welcome new beginnings.
How come my item looks different from the picture on the website?

That's because we are working with natural materials. This means every piece is unique and none looks the same. Appreciate diversity :) 
What if my chain breaks?

Our creations are handmade and consciously combined with love and passion. If you do not meet your expectations or there is a quality issue of any kind - please do not hesitate to contact us so we can seek solutions together.
When will I receive my item?

Germany's standard DHL delivery takes 2-5 business days.

Europe standard DHL delivery takes 2-7 business days.

Please notice that we are a two-woman company, and everything is handmade by us. Depending on the current order situation, creating and shipping can take longer. We will inform you when that's the case. Thank you for your understanding. We appreciate your patience.
Where do you ship?

Germany
DHL Standard: 2-5 days 
DHL - 5,49 € → 2 kg insured until 500 €

Europe
DHL Standard : 3-7 business days
DHL - 13,99 € → 2 kg insured until 500€

Europe: Belgium, Bulgaria, Denmark, Estonia, Finland, France, Greece, Ireland, Italy, Croatia, Latvia, Lithuania, Luxembourg, Malta, Monaco, Netherlands, Poland, Portugal, Romania, Sweden, Slovakia, Slovenia, Spain, Czech Republic, Hungary, Cyprus (Republic of Cyprus), Austria
Do you ship outside the EU?

Yes. We are a small company, and it takes some time to grow and expand. If your country is not listed here yet, please send us a message so we can arrange a shipment that fits best. 
Can I return my item?

Yes. If we do not meet your expectations, you can return it within 14 days. Please, contact us before sending back your item.
What is the source of your knowledge about gemstones?

Our information about gemstones is based on books by Michael Gienger. Exemplary, source: Gienger, Michael: Healing Crystals/the AZ guide to 555 gemstones, 2nd Edition, Neue Erde, Saarbrücken, 2014.